With gold rallying, you'll want to be at the New Orleans Investment Conference
Submitted by cpowell on Fri, 2018-10-19 14:49.
Section: Daily Dispatches
By Brien Lundin
Editor, Gold Newsletter
and CEO, New Orleans Investment Conference
Friday, October 19, 2018
We have an amazing faculty for this year's New Orleans Investment Conference, to be held Thursday through Sunday, November 1-4. As usual, we start with "big picture" experts like Robert Kiyosaki, James Grant, Mark Steyn, Jonah Goldberg, Guy Adami, Dennis Gartman, Doug Casey, Rick Rule, Peter Schiff, and more.
We get more specific with experts like deadly-accurate market forecaster Keith Fitz-Gerald, wealth and livelihood preservationists Chris Martenson and Adam Taggart, influential market economist Peter Boockvar, renowned crypto expert Juraj Bednar, and popular analysts Ben Hunt, Bob Prechter, Mark Skousen, Sean Levine, Matt Warder, Tom Wheelwright, The Real Estate Guys, and Steve Hochberg.
... Dispatch continues below ...
---
ADVERTISEMENT
Do You Own Gold in the Safest Way?
Do you own gold via an ETF, a digital gold provider, or another form of pooled gold?
Did you know that only a tiny fraction of their gold holdings are effectively available for delivery in coin or bar format at any one time?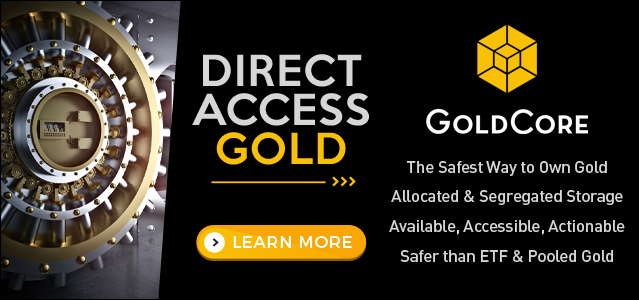 Direct Access Gold reduces counterparty risk and systemic risk and ensures liquidity, competitive pricing, and outright ownership of investors' gold.
Direct Access Gold protects our clients against certain systemic risks, including cyberwar involving electrical grid & internet outages.
In the event of a technological failure, digital gold or exchange-traded fund providers may become uncontactable and you may not be able to sell or access your gold.
Direct Access Gold gives gold owners the ability, in the event of certain geopolitical, digital, and systemic events, to take delivery or move their gold to a location of their choice.
For key information and a video about Direct Access Gold, please visit:
https://info.goldcore.com/direct-access-gold
---
And of course we're going to focus on every investment sector -- but specifically metals and mining -- with experts like Adrian Day, Nick Hodge, Louis James, Byron King, Sean Brodrick, Lawrence Roulston, Lindsay Hall, Mary Anne and Pamela Aden, Omar Ayales, Thom Calandra, Gerardo Del Real, Mickey Fulp, Rich Checkan, GATA's Bill Murphy and Chris Powell, and more.
But there's a sense of urgency to this year's event for a couple of reasons.
One is that gold seems ready to begin its next rally at any moment. Not only that but, if speculator sentiment is any indication, this next move in gold could be historic.
That would imply life-changing returns in mining stocks -- and there's no better place to be in that scenario than the New Orleans Investment Conference.
Second, I'm getting concerned about our room block at the New Orleans Hilton Riverside hotel. At the current rate of response, we're likely to sell out well before the conference.
If you lock in your place now, you'll guarantee accommodations in our convenient host hotel, just an elevator ride to our general sessions and social events.
Moreover, you'll also lock in a savings of up to $400 per registration. And, as a former conference attendee, you'll qualify for a free Gold Club upgrade. That's a $189 value.
To learn more and reserve all of these benefits, just click here:
https://neworleansconference.com/wp-content/uploads/2018/07/NOIC_2018_Po...
Be sure to enter FREEGOLDCLUB as your discount code to claim your free Gold Club upgrade.

* * *
Join GATA here:
New Orleans Investment Conference
Hilton New Orleans Riverside Hotel
Thursday-Sunday, November 1-4, 2018
http://neworleansconference.com/wp-content/uploads/2018/07/NOIC_2018_Pow...
* * *
Help keep GATA going
GATA is a civil rights and educational organization based in the United States and tax-exempt under the U.S. Internal Revenue Code. Its e-mail dispatches are free, and you can subscribe at:
To contribute to GATA, please visit: