Central banks to increase gold buying for first time since 2013
Submitted by cpowell on Wed, 2018-10-24 13:50.
Section: Daily Dispatches
By Rupert Rowling
Bloomberg News
Wednesday, October 24, 2018
Central banks are set to increase their purchases of gold in 2018 for the first time in five years as eastern European and Asian countries seek to diversify their reserves.
Net purchases of gold by central banks are forecast to rise to 450 metric tons this year, up from 375 tons in 2017, according to consultancy Metals Focus Ltd. That will be the first increase since 2013, when banks boosted their holdings by 646 tons, the most for several decades.
... Dispatch continues below ...
---
ADVERTISEMENT
Do You Own Gold in the Safest Way?
Do you own gold via an ETF, a digital gold provider, or another form of pooled gold?
Did you know that only a tiny fraction of their gold holdings are effectively available for delivery in coin or bar format at any one time?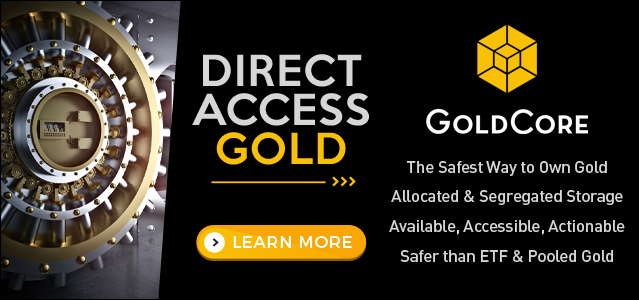 Direct Access Gold reduces counterparty risk and systemic risk and ensures liquidity, competitive pricing, and outright ownership of investors' gold.
Direct Access Gold protects our clients against certain systemic risks, including cyberwar involving electrical grid & internet outages.
In the event of a technological failure, digital gold or exchange-traded fund providers may become uncontactable and you may not be able to sell or access your gold.
Direct Access Gold gives gold owners the ability, in the event of certain geopolitical, digital, and systemic events, to take delivery or move their gold to a location of their choice.
For key information and a video about Direct Access Gold, please visit:
https://info.goldcore.com/direct-access-gold
---
With just over two months of the year left, it's more likely that the projection will be raised than lowered because central banks generally seem interested in purchases, according to Junlu Liang, a senior analyst at London-based Metals Focus. ...
... For the remainder of the report:
https://www.bloomberg.com/news/articles/2018-10-24/central-banks-to-incr...

* * *
Join GATA here:
New Orleans Investment Conference
Hilton New Orleans Riverside Hotel
Thursday-Sunday, November 1-4, 2018
http://neworleansconference.com/wp-content/uploads/2018/07/NOIC_2018_Pow...
* * *
Help keep GATA going
GATA is a civil rights and educational organization based in the United States and tax-exempt under the U.S. Internal Revenue Code. Its e-mail dispatches are free, and you can subscribe at:
To contribute to GATA, please visit: