The GATA Gold Conference - April 17-19 2008 - Washington, DC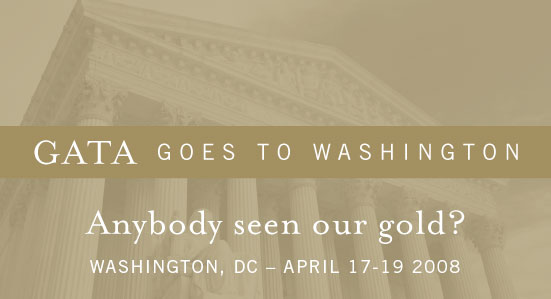 Dear Friend of GATA and Gold:
On behalf of the Gold Anti-Trust Action Committee, I invite you to attend our "GATA Goes to Washington: Anyone Seen Our Gold?" conference in Washington, D.C., from Thursday, April 17, to Saturday, April 19, 2008. At this conference we will continue the important dialogue we began in August 2005 at our "Gold Rush 21" conference in Dawson City, Yukon, Canada.
For "GATA Goes to Washington" we are drafting an exciting agenda, including formal presentations, panel discussions, and networking opportunities with leading figures in the currency and monetary metals markets.
We urge you register for the conference as soon as possible to ensure your place. And please watch www.GATA.org for details about the conference.
Hoping to see you in Washington.
BILL MURPHY, CHAIRMAN
Gold Anti-Trust Action Committee Inc.
Conference Information:
Sponsored By