You are here
Central Banks Under Suspicion - Business Report
Submitted by

admin

on Fri, 2001-05-11 03:00
Section: GATA in the Press
BULLION central banks under suspicion
Gold antitrust guru seeks African countries' support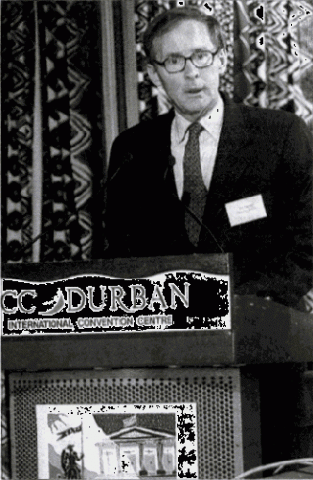 DEBT DETECTIVE Bill Murphy, the chairman of Gata,
says the market is rigged to favour debtor banks.
Photo: Grant Erskine
INGRID SALGADO
KWAZULU NATAL EDITOR
Durban - Africa's gold producing countries were urged yesterday to back plans to get top bullion banks and US Federal Reserve chairman Alan Greenspan into the witness stand of a US court, to answer claims of gold price manipulation.
The Gold Anti-Trust Associ- ation (Gata) made the appeal at a seminar attended by South African mining houses, trade unionists, the Reserve Bank and government officials from a handful of African countries, in- cluding Ghana and Ivory Coast.
Gata alleged that investment houses Citigroup, Goldman Sachs, Deutsche Bank, JP Morgan and Chase Manhattan, together with the Bank for Inter- national Settlements (BIS) and the world's central banks, were colluding to keep the gold price low to stall losses arising from the lending of bullion reserves,
The complex allegations have been labelled a "conspira- cy theory" by sceptics who follow the standard explanation that surplus bullion is feeding the low sold price.
But Bill Murphy, Gata's colourful chairman who has enlisted the support of Zulu King Goodwill Zwelithini, yesterday implored African nations to take the matter to the Black Caucus, the US Congres- sional lobby that opposed plans to sell a portion of gold reserves of the International Monetary Fund (IMF) to fund debt relief in developing countries.
Murphy also called on inter- ested parties to demand an- swers from, among others, Bank of England governor Eddie George, Greenspan, the US trea- sury the IMF and the BIS. "We would like President (Thabo) Mbeki to ask these questions himself;" he said.
The allegations revolve around the practice by central banks to lend gold reserves at low interest rates to bullion banks, which in turn sell the gold to earn higher interest.
The problem arose, said Gata, when it was time for trad- ing houses to repay the debt.
If the gold price was too high, bullion banks would incur massive losses. Hence it was in the interests of central banks to bail out the bullion banks by colluding to suppress the price,
Gata claimed that between 10, 000 and 16, 000 tons of gold had been borrowed in this way "It will take about a decade to empty the vaults," said Frank Veneroso, Gata member and internation- al finance consultant. "If our numbers are correct, it can't go on for much longer."
Representatives of mining houses among them Anglo- Gold and Gold Fields, which have admitted to funding Gata when it was formed two years ago, attended the seminar but would not comment on whether they supported Gata's claims.